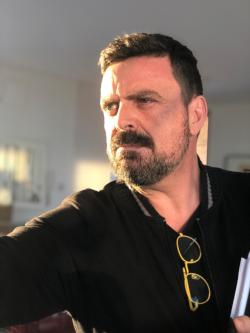 David Matamoros has been a film producer for over 20 years. Born in Barcelona, Spain, he has produced everything from animation to fiction and TV series.

His alliance with Lars Von Trier and Zentropa has led him to participate in some of the most prestigious films of recent years, such as MELANCHOLIA, THE HUNT, the Academy Award-winning IN A BETTER WORLD and THE HOUSE THAT JACK BUILT.
A regular at prestigious international festivals, David has recently produced the award-winning A BRIEF HISTORY OF THE GREEN PLANET and the Netflix worldwide phenomenon EL HOYO (THE PLATFORM).
David's film credits include other titles such as EVOLUTION, TASTING MENU and VULCANIA and in 2019 he co-directed ISAAC with Ángeles Hernández, an official selection at several prestigious festivals. He's currently filming the animated movie, HANNA AND THE MONSTERS and is in prep to direct his second feature, ASTRONAUTA and BIG BAD WOLVES, once again in collaboration with Netflix.
David is also a mentor in programmes such as Script East and Cartoon, and is a professor at the Pompeu Fabra University in Barcelona. He is the author of the best-selling book on film distribution, Film Distribution: First Steps.