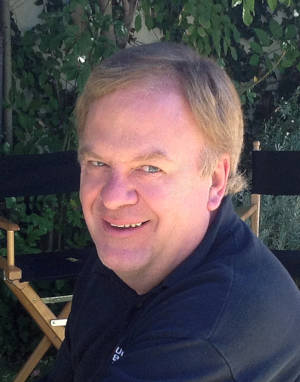 David Congalton is an award-winning author, screenwriter and radio personality. His original screenplay, Authors Anonymous, was sold to Hollywood and released in 2014. The romantic comedy, about a dysfunctional writing group, stars Kaley Cuoco, Chris Klein, Teri Polo, and the late Dennis Farina in his final role.
David is currently in pre-production on a second script, Seven Sisters, which has director Danny Leiner attached. His latest script, Four Score, is an historical comedy about the writing of the Gettysburg Address.
A former college professor, David has been a professional writer since 1989, working as a newspaper columnist and freelance magazine writer. He is the host of a popular radio show and has interviewed numerous authors, including Jane Smiley, Carolyn See, Catherine Ryan Hyde, Vincent Bugliosi, Tim O'Brien, Patrick McGrath and Arianna Huffington.
David and his wife Charlotte Alexander are both active in animal rescue and currently share their home with six dogs and four cats.
David also served as the director of the Central Coast Writers Coast in San Luis Obispo, California, for 12 years. He is a much-in-demand speaker on the West Coast writing circuit and enjoys sharing his passion for all things creative.