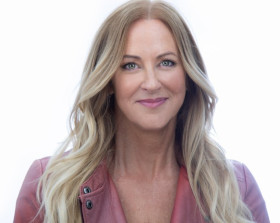 Widely respected, admired and trusted, Margaret French Isaac's remarkable work and success over her career has impacted all facets of Hollywood, and helped lead the way for women in the entertainment industry. She is a member of the Academy of Motion Pictures.
Margaret is President of Di Novi Pictures and Producing partner with principal Denise Di Novi, managing all aspects of film production from conception through production and release strategy, with movies and strong relationships at financiers including Warner Bros, A24, Apple, Netflix, Amazon, and Disney/Fox.
For almost a decade prior, Margaret French Isaac guided Johnny Depp's Infinitum Nihil Productions as its Executive Vice President of Film and Television. Her elite tenure there saw the company produce feature blockbusters, critically acclaimed films, and successful TV series. These achievements included: one of the highest-grossing franchises of all time, PIRATES OF THE CARIBBEAN; THE RUM DIARY; MORTDECAI; DARK SHADOWS; and numerous others, with many more highly-anticipated films and series in development.
Margaret served as one of the top executives for Steven Spielberg at DreamWorks during its successful conclusion to going public; as President, she ran Wendy Finerman's Company which produced the Academy Award winning FORREST GUMP as well as mega-hits STEPMOM, and FAIRYTALE: A TRUE STORY, among others; she partnered with director Mimi Leder, was a senior executive at Vanguard Animation, and so on… She's been involved in film and TV at all the major movie studios– DreamWorks, Paramount, Fox, Sony, Warner Bros. and Disney. She has developed series for TV networks including ABC, Fox, CBS, MGM, and Lifetime.
Over her career as an executive, producer, and mentor, Margaret has also helped groom and lead numerous authors, screenwriters, producers, directors, and actors to execute their visions and realize their dreams.