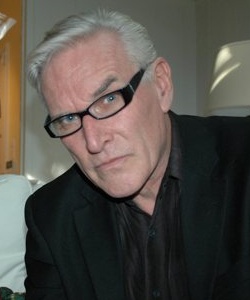 Martin Olson is an author, comedy writer and songwriter who plays Hunson Abadeer, Lord of Evil, on Cartoon Network's Adventure Time.
He is best known as a head writer for Disney's Phineas and Ferb, for his New York Times best-selling humor book The Adventure Time Encyclopaedia (Abrams, 2013), and his notorious satire Encyclopaedia of Hell (Feral House, 2011).
Specializing in writing comedy specials and directing one-man shows, Martin became producer-writer for Penn and Teller on their FX variety series Penn Teller's Sin City Spectacular.
Martin has just published his third book for Adventure Time, The Enchiridion & Marcy's Super Secret Scrapbook (Abrams, 2015), with his daughter, singer/songwriter Olivia Olson (Joanna in Love Actually). He is currently staff writer for the Disney series Milo Murphy's Law.
Martin has received four Emmy nominations, two for television writing and two for songwriting. He also received an Ace Award for comedy writing and has sold comedy screenplays to Dreamworks, UA, Touchstone and Warner Bros.
The film rights to Encyclopedia of Hell were bought by Warner Bros, through producer Andrew Lazar for Mad Chance Productions.