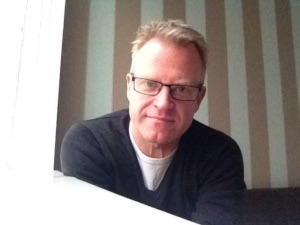 Niall Johnson has been a British-based film writer and director for 20+ years. His most recent work is as a writer on the visually-striking animated drama-documentary ANOTHER DAY OF LIFE, based on the memoir by Ryszard Kapuscinski about the Angolan civil war of the mid-1970s. Winner of the Best Animated Film at this year's European Film Awards, it received its World Premiere at the 2018 Cannes Film Festival. Niall's two most recent films as Writer-Director were released within a year of each other: MUM'S LIST (2016) the critically-acclaimed true story weepie romance based on St John Greene's best-selling memoir, starring Rafe Spall and Emilia Fox; and the Western-styled adventure story THE STOLEN (2017) set in New Zealand's 1860s Gold Rush, starring Alice Eve, Jack Davenport, Graham McTavish and Richard O'Brien.
Niall came to Hollywood's notice in 2003 with his spec supernatural script WHITE NOISE, starring Michael Keaton, which opened in January 2005 at #1 in the UK and #2 in the US, where it broke the record at the time for the biggest January opening for a non-sequel. In 2005 Niall wrote and directed black comedy KEEPING MUM, starring Rowan Atkinson, Maggie Smith, Kristin Scott Thomas, and Patrick Swayze. He adapted the script from an original by Pulitzer Prize-winning novelist Richard Russo (Nobody's Fool, Empire Falls). His other credits include wife-swapping comedy-drama THE BIG SWAP, and traditional haunted house TV-Movie THE GHOST OF GREVILLE LODGE starring Prunella Scales and George Cole.
Born and raised in Sutton Coldfield, near Birmingham, Niall's passion for movies is a result of a childhood spent producing epic remakes of the likes of PLANET OF THE APES, STAR TREK, DOCTOR WHO and BATMAN with his brother, a friend, and a silent Kodak 8mm film camera—the most notable recurring feature of these being his mother's laundry hanging on the washing line in the back-yard.